Pre-Payment Options
All student meals are FREE for the 2021-2022 School Year. However, students at Hogan Middle School, Jesse Bethel High School and Vallejo High School do have the option of purchasing a la carte items.
Pre-Payments for these middle and high school students can be made online. You can click on the TITAN button below and follow the steps to set up an account.

Or you can choose to do your prepayments through your Aeries Parent Portal. Click the TITAN icon on the left side of the Parent Portal page. This will take you to your student screen in TITAN. From here you can choose to do a One-Time Account Payment, or set up a Recurring Payment.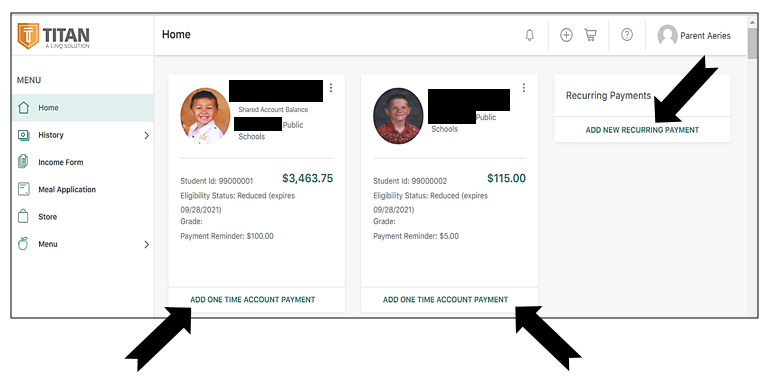 Transferring Money Between Student Accounts
If you have more than one student enrolled in VCUSD schools, you can transfer money from one student's meal account to another student's meal account online from the same TITAN page. Simply click on the 3 dots to the right of the student's name, and choose Transfer Money.

If you wish to transfer money from the account of a student who has graduated from or transferred out of a VCUSD school, please call our office at (707) 556-8921, ext.50010, with the following information:
Name of student you are transferring money FROM
Name of student you are transferring money TO
Amount you want transferred $______

Your name, relationship to student, and a phone number where you can be reached
Refund Request
You can request a refund of money on your student's meal account by completing a Request for Refund of Prepaid Lunch Money form, available at your school office.